During your child's preschool years, an important milestone begins to emerge. This is the development of pre-writing skills. Pre-writing skills are used to encourage, develop and support opportunities for your preschool child to begin writing.
When your child begins to show interest in writing, it is really an exciting time which should be encouraged. As a parent, you may find it difficult in knowing where to begin. This article will provide you with a guideline on how best to develop your child's pre-writing skills and the process your preschool child will go through during the initial stage of pre-writing development.
Pre writing skills involve the skills a child needs in order to learn to write. These skills include sensor motor skills which enable a child to hold and use a pencil which gives them the ability to copy, trace, draw and colour. One of the fundamentals of pre-writing skills is pattern writing. Pattern writing is specific stokes that comprise in all letters and numbers. As a child practices pattern writing through copying and tracing this will give them the confidence and ability to write letters and numbers correctly.
Pre-Writing Skills Tasks
There are a number of pre-writing tasks that you can use to encourage and support a child in their pre-writing skills. These include but not limited to:
Pattern writing 
Tracing shapes and patterns
Dot to Dots
Colouring In
Drawing
Copying lines
When to Start Pre Writing Skills
There is no 'set age' that a child has to start pre-writing skills but usually from about 4 years old a child will begin to show an interest in wanting to write. During this time, it's a good idea to introduce pre-writing tasks such as pattern writing, tracing, copying, colouring and drawing. This will enable them to develop the correct method of learning to write letters and numbers and practice holding a pencil correctly. If a younger child shows an interest in learning how to write then extend on their interests by offering them pre- writing tasks too.
Holding A Pencil Correctly
This is one of the most basic principles in developing your child's pre-writing skills – holding a pencil correctly. Your child may already be able to grasp a crayon or texta with their whole fist. When holding a pencil your child will need to learn to use their thumb, pointer and middle finger (dynamic grasp) to grip around the bottom of the pencil to gain better control of writing. This is also considered the correct grasp to use when writing. It is fairly common at this stage that your child will still be learning how to correctly hold their pencil. To encourage your child further you can add rubber pencil grips (available from newsagents) to your child's pencils in order to help them hold their pencil correctly. You can also gently remind and show your child the correct grasp, when it comes to writing. This will take time, so don't expect your child to improve their pencil grip right away.
Below is a table of Pencil Grip Postures that are most common among children. Image J "Dynamic Tripod Grasp" is the correct and ideal grip for holding a pencil during writing.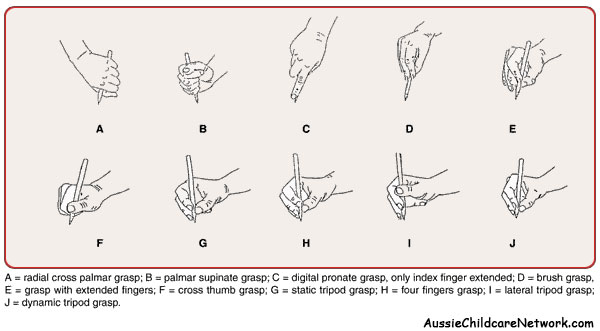 Development of Fine Motor Skills
In order for your child to maintain the correct grip for holding a pencil, their fine motor skills will need to be improved and encouraged. Fine Motor refers to the development of small muscles of the body (particularly the small muscles in hands) which will enable actions like grasping small objects, clicking, correct writing grasp etc. By developing your child's fine motor skills, it will enable their finger and muscles to become stronger and provide them with the ability to control the way they hold a pencil.
Here are a few suggestions on how to develop your child's fine motor skills:
Using scissors to cut out shapes or cut paper.
Threading shoelace through sewing card holes (this can easily be made by making holes on a piece of paper, using a hole punch that your child can thread a shoelace through).
Manipulating play dough/clay and using cookie cutters to make various shapes and designs.
Picking up objects using tweezers.
Threading beads on a string (making a bracelet or necklace).
Drawing (get some blank pieces of A4 paper and make a drawing book).
Painting.
Sand manipulation (get some buckets and spades for your child to use in the sand).
Colouring in (colouring in within the lines is a great way for your child to practice hand control).
Tracing shapes, designs, letters etc. (Draw different shapes, designs and letters on a piece of paper that your child can trace over).
Pattern Writing
Pattern writing aims to help your pre-school child in the development of pre-writing skills. It provides your child the ability to use cognitive development, observations, hand-eye co-ordination and encourages your child to draw in a specific direction. The basic lines and curves (that are traced over broken lines) which are included in pattern writing are essential to the development of learning to write letters.
A) Standing Lines and Sleeping Lines – helps your child to learn to write the following letters E, F, H, I, L and T.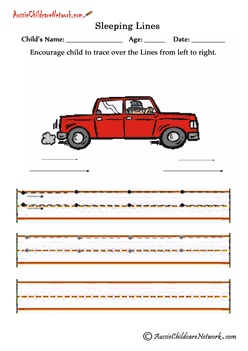 B) Slanting Lines: Left to Right and Right to Left and Up and Down – helps your child to learn to write the following A, M, V and W.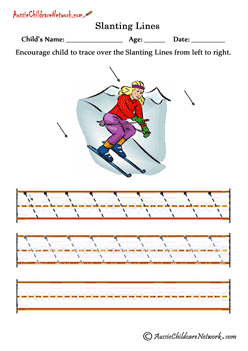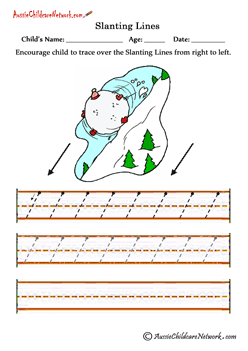 C) Curves: Upwards, Downwards, To the Left and To the Right – helps your child to learn to write the following C, O, Q, U.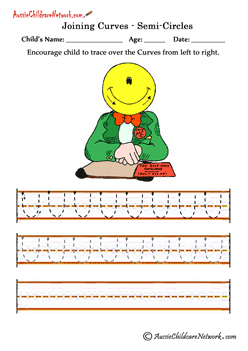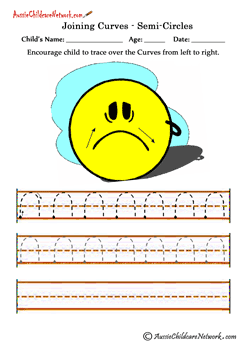 Pre-writing Skills Development
 By combing specific pre-writing patterns your child will learn how to write a variety of letters. Such as, standing line and curve to the right, will enable your child to learn to write the following D, B, P.
When teaching pattern writing to your child it's important to emphasize the direction on where a child should begin (from top to bottom and left to write).
In the beginning, copy the pattern writing shapes onto a piece of paper, using broken lines (- - - - - -). Help and encourage your child to trace over the broken lines.
Once your child has control over their pencil grasp and is able to comfortably follow over the broken lines, to extend your child's pre-writing skills further, you can begin to write letters for your child to copy. This will happen in due course and each individual develops at their own pace.
There are a variety of ways to encourage your child's pre-writing skills in order to give them the confidence to begin to write letters. This is the first process of developing your child's writing ability. Following these simple guidelines provided to you in this article, will ensure your child has an encouraging and confident start to their pre-writing development.
Pre Writing Worksheets
In the Printables section of this site you will be able to find a variety of pre-writing worksheets under the "Pre Writing Skills" category. You can also find a variety of tracing letters, colouring pages, tracing numbers and much more which will support a child to develop their pre-writing skills.