The NSW Minister for Education and Early Learning has released a Minister's Statement of Expectations. This formal public statement covers how the education and care sector's regulator will operate and what the public can expect of the government in ensuring that education and care services in NSW are appropriately regulated.
The Minister's Statement of Expectations (SOE) helps parents, carers and families to have confidence in the department's role in regulating early childhood education and care services in NSW.
The SOE outlines the Regulatory Authority's targets that, together, will support the delivery of high-quality early childhood education and care in NSW. These targets focus on four key themes including:
child safety
quality improvement
timely and effective regulation
stakeholder engagement.
The Regulatory Authority will aim to deliver the activities and achieve the targets within the specified two-year period identified in the SOE and will monitor and report on progress along the way. At the end of this period, we will report on achievements through a publicly available statement. To ensure that the targets remain current and appropriate, the SoE will be reviewed every two years.
The department is committed to working in partnership with the sector to continuously improve quality and ensure safety requirements are met. The SOE allows for greater accountability which will strengthen relationships with services by ensuring that stakeholders are aware of the department's expectations and core activities.
Statement Of Expectations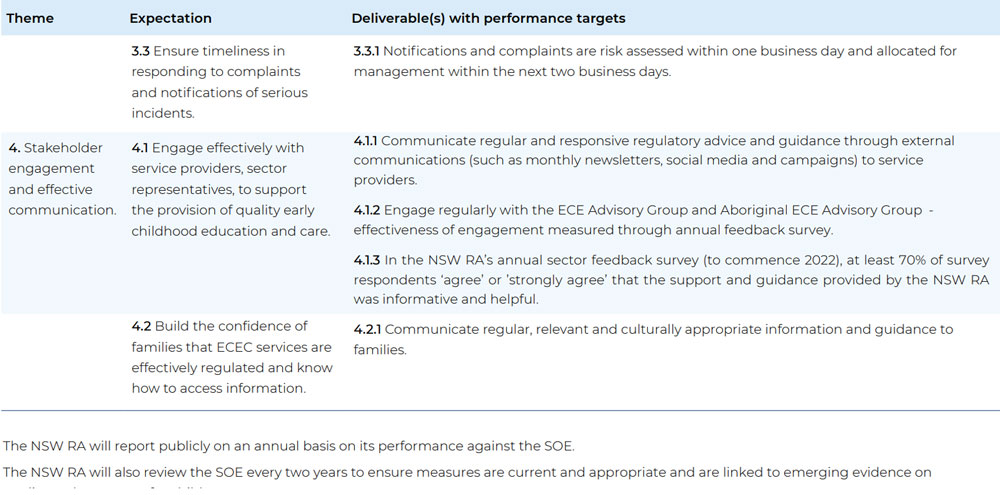 For more information: Statement Of Expectations