Would you like to learn more about the ways in which your child care service can get the most out of feedAustralia? Would you like to learn more about how feedAustralia can be deployed in the home?
feedAustralia is coming to a town near you!

feedAustralia will be running a national feedAustralia Tour from March to April 2019, at no cost to participants. The Tour will include Professional Development sessions for Cooks and Educators, information sessions for parents, and hands-on learning of feedAustralia.

More information will be available shortly about the upcoming events,  but in the meantime, be sure to mark the below dates in your diary!
Dates:

• Canberra - Monday 18 & Tuesday 19 March (TBC)
• Brisbane - Thursday 21 & Friday 22 March
• Darwin - Monday 25 & Tuesday 26 March
• Perth - Thursday 28 & Friday 29 March
• Adelaide - Monday 1 & Tuesday 2 April 
• Hobart - Thursday 4 & Friday 5 March 
• Sydney - Monday 8 & Tuesday 9 April
• Newcastle - Thursday 11 & Friday 12 April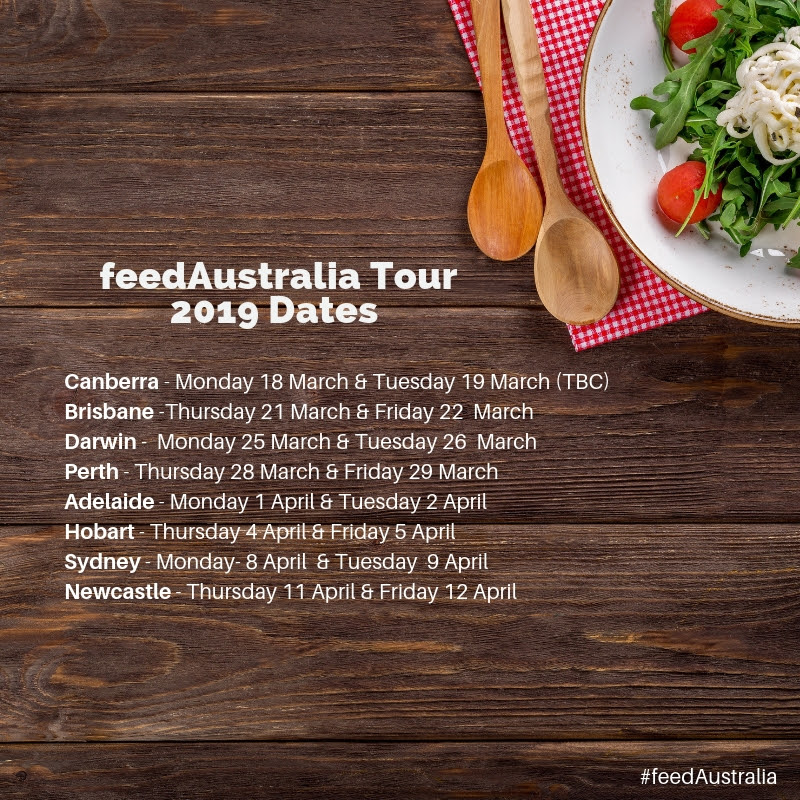 For more information on the feedAustralia Government initiative, please read the following:
Free Menu Planning Tool For All Early Childhood Services

Reference:
Permission received from feedAustralia to reproduce information.