An easy winter craft by creating a paper plate polar bear. Watch polar bear spin around and round as you hold it in your hand or give it a gentle blow.
Materials Needed:
2 Paper Plates
Wiggle Eyes
Small Black Pom Pom
Blue Paper
Blue Marker Pen
Black Marker Pen
Scissors
Ribbon
Glue
Sticky Tape
What to do:
Starting from the outside of your paper plate cut a spiral towards the middle. You might want to draw a pencil line first for children to follow.
Cut the middle out of your second paper plate to make the head for your polar bear twirler.
Use the rim of the paper plate to cut out two bear ears.
Colour the middle of the polar bear ears black and glue them onto the back of the head.
Glue on your wiggle eyes, black pom pom nose and draw on a happy smile.
Use some more pieces of the second paper plate's rim to cut two polar bear paws and colour the pads in black.
Glue the paws onto the spiral of the polar bear twirler.
Cut two or more fish shapes from your blue paper and decorate them with marker pens.
Glue the fish onto the outer spiral of the paper plate twirler.
Turn your paper plate twirler over and glue or tape some ribbon onto the back of the polar bear's head.
Hold the ribbon and blow the polar bear and it will begin to twirl around.
Hints and Tips:
Hang them from the ceiling.
Draw the polar bear face for the children to decorate.
Have pieces pre-made/pre-cut for younger children.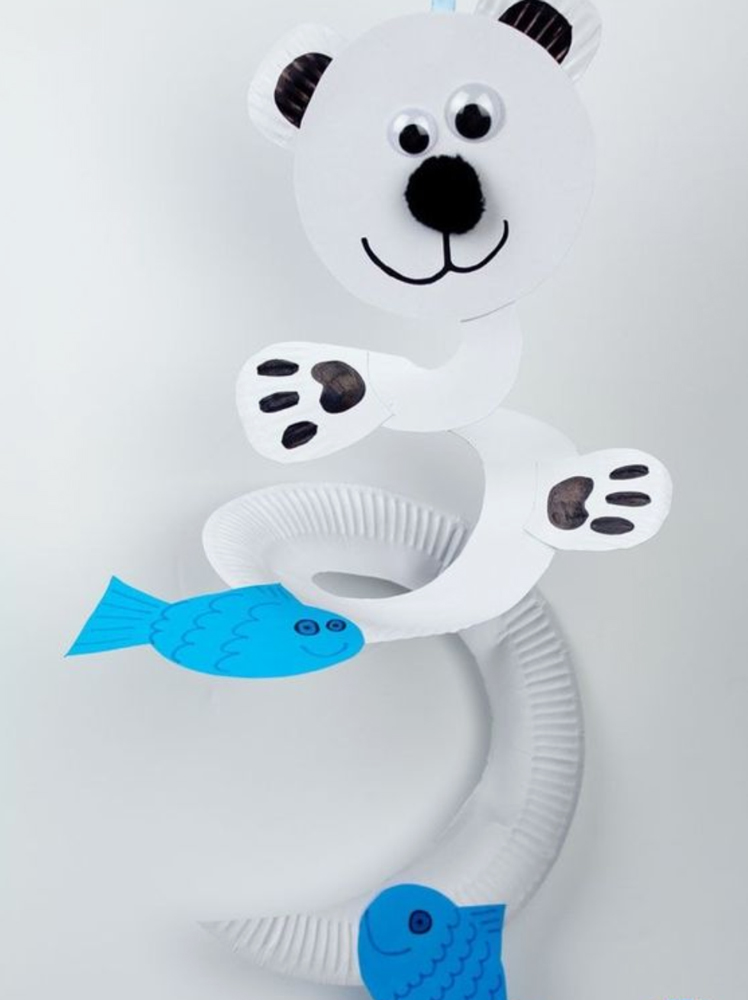 Reference: 
Paper Plate Polar Bear Twirler, KidsCraftRoom