For ECTs working in early childhood services, employed under Educational Services (Teachers) Award (EST Award), The Fair Work Commission has agreed that minimum pay rates should be increased.
The Fair Work Review Board concluded that it was satisfied that an adjustment to the minimum rates of teachers covered by the EST Award is justified by some the following work value reasons:
Additional training requirements for entry into the profession.
Increased professional accountability associated with registration requirements, standardised testing and greatly increased expectations concerning reporting and being accessible to parents and families.
Greater complexity of work resulting from a shift to outcomes-based education and differentiated teaching, with associated requirements for greater documentation and analysis of individual educational progress.
Teaching and caring for a more diverse student population including, in particular, additional needs children.
The Fair Work Review Board considered that a new classification structure should be developed in which the key classification would be that of Proficient Teacher, aligned with the Level C1(a) rate, in which the other classifications would be based on the career levels in the Australian Professional Standards for Teachers.
They have considered that the following classification and pay structure would properly reflect the work value of teachers under the EST Award: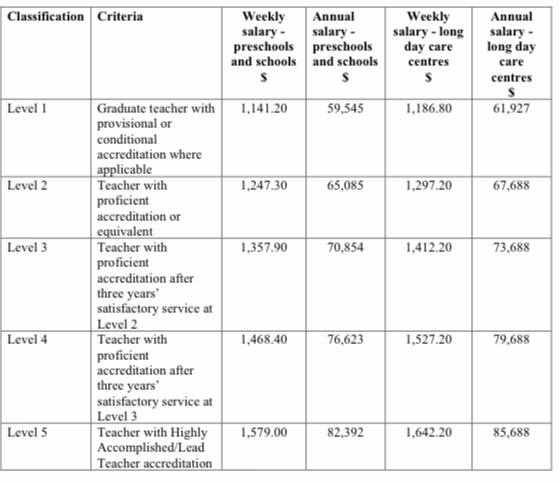 As per the table above. The proposed pay structure has been considered:
Level 1 - New Weekly $1,186.60 - Current $1,044.78
Level 2 - New Weekly $1,297.20 - Current $1,066.31
Level 3 - New Weekly $1,412.20 - Current $1,095.33
Level 4 - New Weekly $1,527.20 - Current $1,134.83
Level 5 - New Weekly $1,642.20 - Current $1,174.37
The Fair Work Review Board also considered that the provision of an annual allowance of $3,302.46 for early childhood teachers appointed to the statutory position of Educational Leader would be justified on work value grounds.
Prior to finalising a new pay structure, The Commission is seeking evidence and submissions including about a date and phasing in of new arrangements, and the capacity of governments to assist funding wage increases.
We will keep you informed as this matter progresses.
For full details:  Summary Of Proposed Changes and Decision